Sony Xperia XZ monitoring software may have become the most wanted spyware for parents since the preorders of latest Xperia XZ started on 30 September , which are also available from third-party carriers and stores. From October 15, the most advanced smartphone will be shipped to these young Sony fans who can't wait playing the new Xperia smartphone. As a result, is it necessary for parents to use an Xperia XZ tracking software to monitor and control children's Xperia XZ usage? What is the most appropriate Xperia XZ Spy Software?
New Features of Sony Xperia XZ
Before talking about Top Android Spy App , let's look at the newly released Xperia XZ. On September 30, Sony released the latest Xperia mobile while users have put more focus on Xperia XZ. Xperia XZ perfects the fundamentals of a great smartphone. Packed with innovations in technology, it boasts a photo-pro's camera, an intelligent battery and smart features that adapt to you. And it's all delivered in a stunning, evolved design.
OS
Android OS, v6.0.1 (Marshmallow), planned upgrade to v7.0 (Nougat)
Display
5.2″ Full HD 1080p, TRILUMINOS™ display for mobile, X-Reality® for mobile picture engine, Dynamic Contrast Enhancement
Camera
23 MP with triple image sensing technology / 13 MP front camera. Xperia XZ allows you to capture even moving objects – before the moment passes you by. Bringing together the power of an imaging sensor and a laser autofocus sensor, you can freeze movement in the sharpest detail, even when the light is low.
Battery Life and Charging
2900 mAh. Stand-by: Up to 600 h (2G) / Up to 610 h (3G); Talk time: Up to 11 h 40 min (2G) / Up to 17 h 30 min (3G)
Memory and storage
Sony has doubled the capacity of all Xperia XZ with 32/64GB tiers.
Water Resistance
Sony's water resistant design takes the worry out of a little wet. Xperia XZ is built to withstand the splashes that are a part of everyday life. So you can relax about sudden spills or unexpected showers.
Most Powerful Xperia XZ Spy App
If you are worried that the new features of Xperia XZ will draw all the attentions of children, you can try Xperia XZ Monitoring Software to keep an eye on their smartphone activities secretly. This best Android monitoring app allows you to monitor everything conducted on the target Xperia XZ, such as all the keystrokes inputted, including usernames and passwords, typed email content, chat logs in social media apps like Facebook/Twitter/WhatsApp/Hike/Skype, SMS messages. Besides, Sony Spyware captures screenshots of Xperia XZ, visually showing you what children are doing on their mobile. Xperia XZ Spy App will send all the monitoring logs to the preset email or uploads to FTP so that you can view the logs remotely whenever you want.
When necessary, you can even use Xperia XZ spy app to control app usage and limit screen time on Xperia XZ. You can block the unwanted apps completely if these apps are not good for children's health and study. You can also block the distracting apps such as Facebook/Twitter/Hike when children should focus on homework or go to bed. You can also set the daily maximum usage time for apps so that children won't access the apps when the allowed usage time reaches. By setting maximum usage time for all apps, you can also limit the screen time on Sony Xperia XZ.
Free try top Xperia XZ Spy App
Key Features of Sony Xperia XZ Spy App
Although Xperia XZ may attract many young Sony fans once again with its startling features, Xperia XZ Spyware enables parents to monitor and control children's Xperia XZ usage effectively with the key features below:
Record Keystrokes and Passwords Entered
Track Sony Xperia XZ GPS Locations
Keep Track of Web Activities
Limit Screen Time on Xperia XZ
Record WhatsApp/Skype/Viber/Line/Kik/Hangouts/Facebook Messages
Log Typed Chat Conversations
Monitor Social Networking Activity
Log SMS Sent and Received on Xperia XZ
Record Entered Email Content
Log Notes/Reminders/Voice Memos
Log Events in Calendar
Log All Contacts on Xperia XZ
Capture Screenshots Periodically
Block Apps/Games like Messages/Siri/Camera/App Store
Filter Inappropriate Websites like Porn/Phishing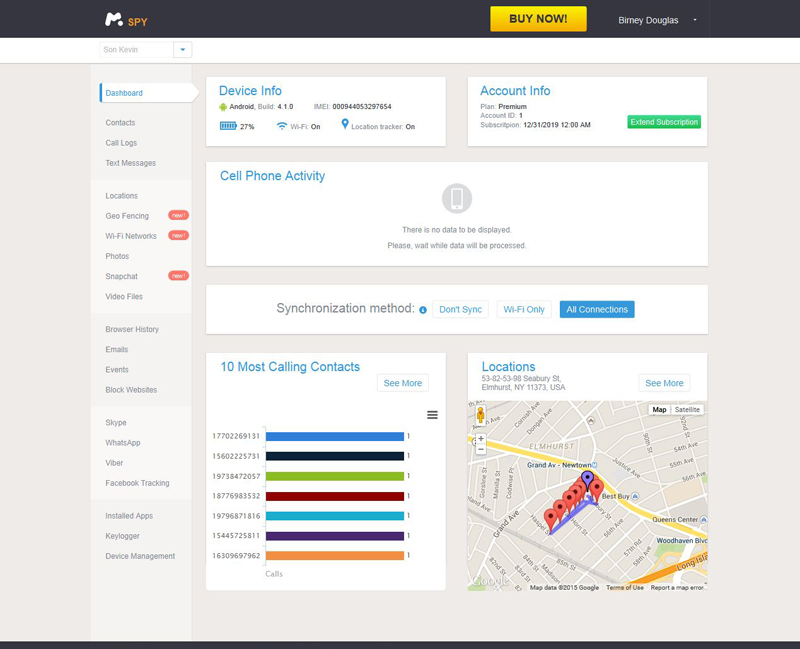 Now you don't have to worry about whether children have inappropriate behavior or encounter dangers when using the latest Android smartphone because our top Android monitoring app enables you to monitor everything on Android smartphone and tablet in secretly and detect the potential dangers in advance! Besides, you can try the free version with your own Xperia XZ before purchasing the full-featured one.
How the Xperia XZ Spy App Works?
1. Buy best Xperia XZ Spy Software
You can purchase Xperia XZ spyware directly from this website. Choose the subscription and fill in the order form. After your payment has been confirmed, installation guidelines will be sent to you.
2. Install and Set Up Xperia XZ monitoring app
After the purchase is completed you need to download Sony tracking application and install it onto the target Xperia XZ. Top Xperia XZ Spy Software installation is so simple and intuitive that you can complete it in several minutes.
3. Start Tracking on Xperia XZ
Simply log in to your Control Panel and the best Xperia XZ tracker will start tracking text messages, call history, GPS location details, and any other activity taking place on the target device. Top Android monitoring app 2019 will capture the information on every activity of your target Xperia XZ user.
Free try top Xperia XZ Spy App