Why we need to spy on another mobile, How to hack someones Android smartphon remotely? I will share some stronge grounds and best spy software for tracking Another phone.
The best way to know where your teenagers are is to have the kind of relationship with them in which they tell you – truthfully. But for those whose relationships are a bit strained. As parents, it is our duty to protect our children from unnecessary harm. We spend only a limited amount of time with our children, we can't stare at them all day. Often child mobile phone won't put in disorder, is generally not the body. So we can install a spy app into their phone.
If you're feeling your husband or wife might be cheating for you, but there's no definite evidence. You're faced with two alternatives: seek out the facts, or to turn a blind eye. Selecting the first choice, although often suitable in the short term, is incredibly damaging for you personally, but for your children and family, not only in the long run too. Seeking the truth out isn't simple either – as we mentioned before, technology has made infidelity much easier to conceal than in the past, however it also provides opportunities for revealing getting the evidence needed to establish them & affairs.
Worrying about employee disclosure of company secrets? Worry about your employees doing irrelevant things in the work time? Managing a company is not an easy job, we have to try our best to make our employees create better performance. Our goal would be to make their work more efficient and to produce a better quality at an acceptable cost to the company. So spy on your employee's smartphone is a good idea.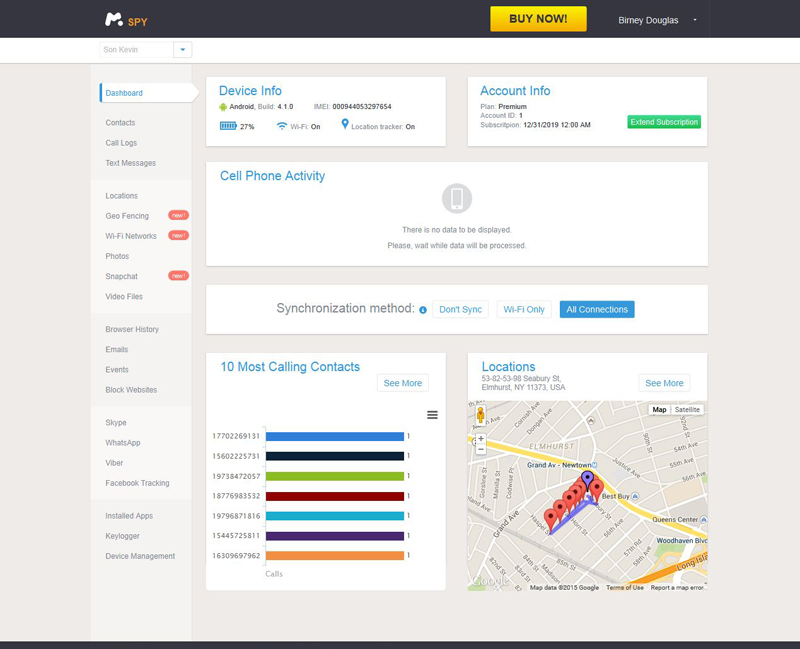 Try this best spy app for monitoring any Android smartphone
Why choose this Android monitoring software?
No matter who you are; a parent, an employer or a spouse, mSy empowers you to channelize the privileges in the right dimensions.
It offers the most innovative features within your affordability.
Featured with user-friendly interface and simple-to-follow installation process
A Complete package of the most innovative features on affordable rates
Cost-Effective packages let you manage all features in minimal cost
Unanimously the most reliable monitoring app and a voice of every parent
Functionality never lets the target user even smell a survilance app is working in the background
This Android spyware stands apart with over 100,000 satisfied customers and a rising count everyday.
It is compatible with Android, iOS and Blackberry devices and works seamlessly on all networks.
Acknowledged by multiple well-know companies for effective employee monitoring
A team of professional developers and customer center representatives ready to resolve your problems promptly and serve you to the fullest
How this application works?
Step 1. Download
Open the Web Browser
Then click HERE to open the website
Purchase best Android spy app for tracking another Android smartphone
Step 2 – Installation
Go to your 'Downloads', locate the newly downloaded it and open it on target phone
Click the 'Install' button
Next, it is very important to click "Open"
You will be asked to enter your email and do so (your password will be send to your email)
Click on the 'Install' button
Step 3 – Start monitoring
Check your Email for login information
Then go to your Private Area and log in
Supported Android Smartphones:
Samsung: Galaxy Note 9, Galaxy S9, iPhone X, Galaxy S8/S8 Plus, Galaxy S7/S7 Edge, Galaxy S6/S6 Edge, Galaxy S5, Galaxy Note 5/4/3, Galaxy Note Edge, Galaxy J7, Galaxy J3, Galaxy Sol 2, Galaxy Amp Prim, Samsung Galaxy A6s, Galaxy A9, etc.
Motorola: Moto Z Family, Moto X Pure Edition, Moto G Family, All Droid phones, such as Moto C Plus, Moto C, Moto G6, Moto G5 Plus, Moto Z force droid, Moto Z3 Play, Moto Z, Moto Z droid, Moto Z Play Moto G4 Plus, Moto G4, Moto G3, Droid maxx 2, Motorola One, Motorola One Power, etc.
HTC: HTC U12 Plus, HTC U11, HTC U Ultra, HTC 10, HTC Bolt, HTC One M9, etc.
Sony: Xperia XZ2, Xperia XZ Premium, Xperia XZs, Xperia XA1, Xperia XA1 Ultra, Xperia L1, Xperia XZ, Xperia X Compact, Xperia XA Ultra, Xperia XA, Xperia X, Xperia Z5, Xperia Z3, Xperia C4, Xperia XZ3, Xperia XA2 Plus, etc.
LG: LGV35 ThinQ, LG V30S ThinQ, LG G7 ThinQ, LG G6, LGV30/V20/V10, LG V40 ThinQ, LG Candy, LG G7 Fit/G7 One, etc.
Others: Apple iPhone, BlackBerry KeyOne, Huawei Honor 8 Pro, Huawei P10, ZTE MAX XL, Xiaomi 6, Vivi Xplay6, LeEco Le Pro 3, Oppo R9s Plus, Alcatel Flash/A30, Siempo phone, Meitu T8, OnePlus 6, Blu Studio, Google Pixe 3 XL, Alcatel 7, Alcatel 5v, Lenovo S5 Pro, Lenovo Z5 Pro, Wiko View2 Go, Wiko View2 Plus, Mi Mix 3, Black Shark Helo, Xiaomi Redmi Note 6 Pro, Xiaomi Mi 8 Pro, ZTE nubia X, ZTE nubia Z18, vivo Y93, vivo Z3, Nokia X7/X6/X5, Nokia 3.1 Plus, Google Pixel 3 XL, Google Pixel 3, Vodafone Smart N9, Panasonic P85 NXT, Panasonic Eluga Z1 Pro, Asus Zenfone Max (M1) ZB556KL, Asus ZenFone Lite (L1) ZA551KL, Asus ROG Phone, HP Elite x3, HTC Exodus 1, HTC U12 life, Oppo R15x, Oppo RX17 Neo, Oppo K1, Oppo Realme 2 Pro, OnePlus 6T, Lava Z81, Huawei Honor Magic 2, Huawei Mate 20 RS Porsche Design, Huawei Mate 20 X, Huawei Mate 20 Pro, Huawei Mate 20, Huawei Honor 8C, Meizu Note 8, Meizu X8, BlackBerry KEY2 LE, BlackBerry Evolve X, BLU Studio Mega, BLU Grand M2, Red Hydrogen One, Pocophone f1, etc.