Can I check my husband's WhatsApp chats with my Android phone and without him knowing? If I can do that, please give me a detailed introduction and show me how it works. Our Apple iPhone 11 Spy App helps you spy on iPhone 11, iPhone 11 Pro, iPhone 11 Pro Max easily and without jailbreak. Access all tracked data directly from your Control Panel at any time. Get this best Spy App for iPhone 11 now.
There are number of reasons why a person might require the use of a spy app. Similar is the case with wives, as they are continuously worried about the chances of Phone spy software. This is where the need to monitor their husband's iPhone 11 and get access to text messages and every other detail of their activity comes up and at the same time it is important to get this task do in complete secrecy.
Hacking someone's iPhone is the most difficult task if you cannot access their phone personally. Many people you can find are looking to hack someone's iPhone 11, iPhone 11 Pro or iPhone 11 Pro Max, but they are not getting their cell phone to install any tracker. Also, there is no technology available to install the hacking tool in victim's cell phone. If you want to hack someone's cell phone without touching their cell phone, then it becomes most difficult task. You have two choices to spy mobile pone. One is to use the ancient method to hack your husband's cell phone or use any hacking tool or spyware. Hacking can be possible without touching the cell phone, but it is impossible to spy on mobile without touching it. The question arises in mind that how can I spy on my husband's iPhone 11.
Whatsapp is one of the top instant messaging apps with over 1.5 billion active users all over the world. This makes it one of the most used social messaging apps in the world. One of the reasons that Whatsapp is a mainstream messaging application is because it is free. Not only that, it has enabled features that allows you to send messages, videos, voice notes, attach photos, make voice and video calls, share documents, gifs, etc. Although Whatsapp is somewhat secure, still, there are some loopholes in this instant messaging technology that makes it subject to being hacked with iPhone 11 spy software.
With Whatsapp, it is very easy to communicate with anyone across the world as long as you have their mobile number, they have the Whatsapp app on their smartphone and they are connected to the internet. In today's world where technology is advanced, even kids can get access to the app if they have a smartphone. Due to this fact, your kids may be secretly sending or receiving messages from someone that ought not to communicate with. This makes it important for parents to spy on Whatsapp chat online to monitor their kids' activities.
Get best spy softwre for iPhone 11/11 Pro/11 Pro Max
Is it possible to spy Whatsapp messages without anyone knowing?
If you would like to know if it is possible to spy on Whatsapp chat online; yes, it is very possible. There are many people who have tried to find several ways to hack someone's Whatsapp chats without installing the WhatsApp tracking software on the target iPhone 11, iPhone 11 Pro or iPhone 11 Pro Max. If you are one such then you are at the right place.
If there are online bullies or predators making use of whatsapp to bully or threaten your children, you can use iPhone 11 spy software to track their activities. As a parent, you have the responsibility to monitor their whatsapp use to avoid them getting involved in immoral acts. Also, your employees may be using Whatsapp to divulge information about your company to your competitors to damage your business. Or worse still, your partner may be cheating on you. By considering all of these, it is very essential to spy on WhatsApp chats with the help of a spying app.
There are number of spy apps available in the market and you have to select the one that fulfil all your requirements. There are number of ways to check about the authenticity of the app like visiting its website, look for customer feedbacks or call directly the customer support and ask for details. iPhone spy software is one such app which will allow you to track your husband's phone and access his text messages.
Track WhatsApp Messsages with Spyware
There are various types of spying software tools available on the web to make this process very seamless for people. There are some that require that you install the Whatsapp tracking software on the target iPhone to get remote access to the WhatsApp chats. Nowadays, there are so many advanced spying tools available that allow one to spy on Whatsapp chat online without installing the software on the target's smartphone.
To choose the best spying app to track whatsapp messages and whatsapp history, it is recommended that you first try out the demo version before downloading the main spying tool. By checking out the demo version, you can get to know if the spying tool is enabled with features that you desire or you should try another. Once you have decided on the iPhone spy software to use in spying on someone's WhatsApp messages, you can now go ahead to download and install for remote access to the target device phone. You can track the person's whatsapp messages from anywhere you are located. It will come in handy in monitoring any suspicious activities by your spouse, kids or employees.
There are several third-party apps that offer Whatsapp monitoring features. But certainly, iPhone 11 Spyware is one of the best apps that you can use to read someone's WhatsApp messages. The good thing about this software is that it can work remotely. You also do not need to install the software on the target phone to spy on their Whatsapp messages.
We have written this informative guide to help you the best ways to hack someone's Whatsapp chats without installing the WhatsApp tracking software on the target phone.
In this article, we will discuss how you can use iOS spy software like this to read someone's Whatsapp messages. Not only that, this article will guide you through the process of how to spy on Whatsapp chat online without them knowing about it. You will also get the step by step process of how to purchase Whatsapp tracking software, how to install the software to begin monitoring your target phone.
Get best spy softwre for iPhone 11/11 Pro/11 Pro Max
iPhone 11 Spy App Additional Features
For the basic iPhone spy software subscription plan, you will be able to monitor your target's activities like:
Text Messages
Phone calls
GPS location
Multimedia
Contacts list
E-mails
If you are subscribed to the Premium plan, you will get advanced options like:
WhatsApp tracking
Snapchat tracking
Instagram tracking
Facebook Messenger monitoring
Keylogging
Call recording
Surrounding recording, and so on
With these advanced tracking features from iPhone 11 Spy Software, parents can be certain of their kids' safety.
iPhone 11/11 Pro/11 Pro Max Spy Software Interface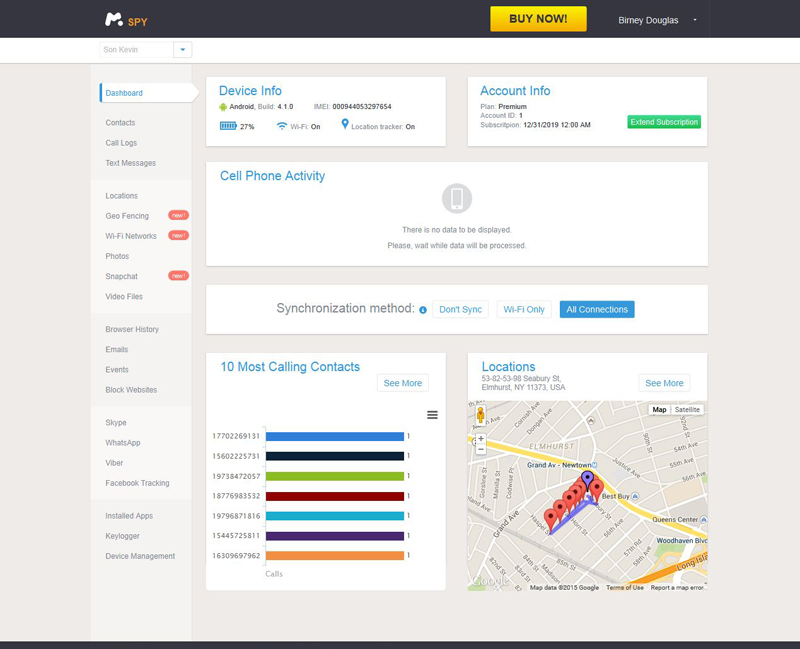 How iPhone 11 Spy App Works?
1. Purchase iPhone 11 monitoring software
Visit iPhone 11 Spyware webpage and then click on 'Buy Now' button on the purchase page. Put in your required information and proceed to checkout.
2. Connect the device that you need to monitor
Get the iCloud credentials of the iPhone 11/11 Pro/11 Pro Max and input it when it is required and then follow the instructions that will be sent to your email.
Tip: Download and install the spy software in the target Android device that you want to spy on Whatsapp chat online. Follow the instruction that comes next carefully to complete the spyware's installation. This will be sent to the email address you registered with.
3. Start Monitoring
Now you can log in to your iPhone 11 Spy App account to access the control board. Once you input the login detail that was sent to your email, you can start monitoring the target device remotely and without stress easily and remotely. So if you are a worried parent, spouse or employer this spy tool can help you in getting the information you need in real-time. Get this whatsapp tracking software and begin your journey read someone whatsapp messages.