Can I view my wife's text messages with my mobile phone? How to spy on Lenovo K10 Plus or K10 Pro? You can get our best spy app to remotely monitor Lenovo smartphones, monitoring calls, GPS, emails, messages, photos,videos, browser history, apps, online chats and more on Lenovo K10 Plus or Lenovo K10 Pro.
The Lenovo K10 Plus smartphone released in 2019. It is powered by Qualcomm Snapdragon 632 chipset, 4 GB of RAM and 64 GB of internal storage. The Lenovo K10 Plus runs on Android OS v9.0 out of the box. It comes with a Li-Po 4050 mAh, non-removable battery. It features a 6.22 inches IPS display with 720 x 1520 px resolution. The IPS technology is one of the most leading LCD technologies in the world.
As a parent, we care about our children, we want to protect them from bad situations; As an employer, to protect company's interest, we want to monitor the employees to prevent them from doing harmful things to company. So everyone may have an reason to monitor others. But we can't stay by their sides for 24 hours a day, how do we remotely monitor them? Actually, we can find many monitoring tools on each app store, of course we need to find the most efficient and best one. And this tutorial will give you an answer.
Why Would We Like to Monitor Lenovo K10 Plus/K10 Pro Remotely?
There could be plenty of reasons for using a remote cell phone monitoring app. From employers to parents, everyone can take the assistance of these tools.
Parents want to know the real-time whereabouts of their kids. It helps parents monitor the online activity of their kids and protect them.
Employers can track their employees remotely.
Individuals can know whether their spouse is being unfaithful.
People also use these apps to track the activity of their siblings, friends, parents, and loved ones.
How to Monitor Lenovo K10 Plus or Lenovo K10 Pro Device Remotely
One of best mobile device monitoring program is known as Android monitoring software. Android Spy App is a leading app that helps parents or employers to monitor how their children or employees are using their devices. Android Spy App has all the features you'd expect including calls, messages, locations, social apps like Facebook, WhatsApp and more. You can even know what has been deleted from their devices. If your children or employees are using Lenovo K10 Plus or Lenovo K10 Pro device, you can simply follow the steps below to monitor the target device. Actually, this app works on not only Lenovo device, but all Android devices, no root needed.
Lenovo Spy App Interface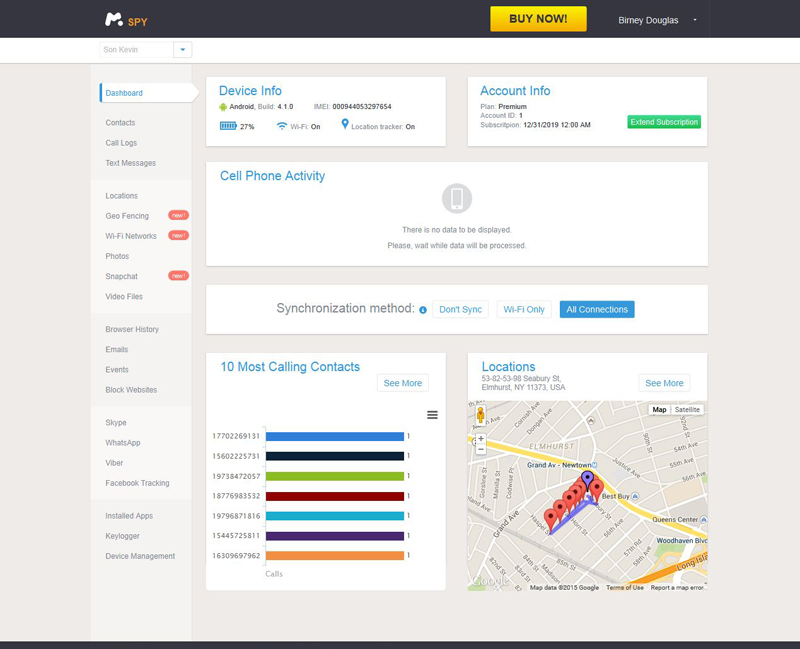 Of course, for the first time usage, you need physical access to the target device to install an app and do some easy settings. Besides, Lenovo Android Spy App now offers basic version for new users, if you want to activate all features and for long term usage, it's wise to subcribe to Premium version. And here's detailed steps to monitor Lenovo K10 Plus or Lenovo K10 Pro device.
Get spy app for Lenovo K10 Plus or Lenovo K10 Pro here.
Step 1: Register.
First of all, you have to purchase the best spy app for Lenovo smartphones. Click on the Sign up button to create a Lenovo spyware account using an valid Email. And then activate it by clicking the link sent to your Email address.
Step 2: Select Android System .
After activating your account successfully, you are able to sign in your account, select Android system and enter some information for your child/employee. Click "Next" to go to next step, start free trial version or buy a basic/premium account.
Step 3: Set up Android Spy App App on Lenovo Device.
Follow the setup wizard to download Lenovo spy app on your target Lenovo K10 Plus or Lenovo K10 Pro device. And then do the settings to authorize Lenovo spy app to access your data following the given instructions. After done all necessary settings, choose to keep or remove the app icon.
Step 4: Remotely Monitor Data on Lenovo Device.
Now, sign in to Lenovo console using an desktop browser or mobile device browser, you are now able to see all data on this interface. Click on each category to check the data you want to view. And you can click on the Update button to upload new data from target device to view the latest data.