How to read my husband's text messages via my smartphone? Under such environment and with the rapid development of the science and technology, scientific misconducts, such as plagiarism and fabrication, are becoming more and more serious in our country. Today, with the rapid development in science and technology, software industry is also developing rapidly. I believe I can find a monitoring app for LG V60 ThinQ.
There are many inventions being made that is really helping the world in getting advanced. Few years back the invention was the text message. With the help of this text message and call, you can easily share your thoughts by writing and speaking. But as the technology is becoming advance now you can even spy on the text message and call to know the truth. If you feel that you friends, family members employees are hiding something from you then in such a situation you can use this spy application and know the truth very easily.
Hacking LG V60 ThinQ can help you in knowing what the person is doing on the phone, with whom they are chatting what they are chatting. This will help you to get all the information of the person and all that he or she is doing on the phone. Monitoring is one of the best ways through which you can reveal the truth. Therefore one such application is LG V60 ThinQ Spy App. This application helps you in getting all the information of the target's phone. There is nothing that can be hidden from this top Android Spy App.
This application provides you with all the details of the person phone as well as all the information of the application that are being installed on the person's LG V60 ThinQ. You can get all information using LG Spy Software. This application is the best as it is designed in such a way that privacy of your identity of hacking can be coved very easily. Therefore the target person will never come to know about the tracking done on him.
What is the use of hack on someone's text messages, calls and GPS location?
Tracking someone's smartphone can help you in getting all the information of the conversation that is being taken by the target person on his phone. There are many innovations that are being made in this feature so that you can get every detail of the messages. Somehow all that you want to get using this application is being achieved. This application provides you with all the information. If you want to know the secrets of people or any information about the person than this application will be the best. All the secrets can be easily revealed and you can easily track the information of all the victims' call history, GPS location, text messages, WhatsApp, Snapchat, Facebook, web history and more!
With the help of this application an individual can easily check what the person is doing on the phone, all the information will be sent to you on the control panel of this application. You can easily keep an eye on the person's activity using LG V60 ThinQ Spyware.
Free try top LG V60 ThinQ Spy App
Some of the possible reasons are here that is why people want to hack someone's smartphone.
Child monitoring: It is another reason that is why parents are willing to hack their kid's LG V60 ThinQ. If you want to keep your child away from any cyber criminal activities, then you can prevent them by using the spyware.
Catching cheating spouse: If you feel small change in your life partner's behavior, he/she use the mobile phone too much, prefer chat options to communicate someone or use mobile till late night then it is time to pay attention to their mobile activities. Thus, you can hack their mobile phone to know any cheating activities.
Compete in business: Becoming top entrepreneur demands some business strategies that can help to compete with other business competitors. If you can hack others LG V60 ThinQ, then you can check their business strategy.
Employee monitoring: being a manager, you have another responsibility to catch any fraud employee who shares any business information to other business competitors. Thus, you should hack their LG V60 ThinQ to catch their fraudulent activities.
Hundreds of reasons you can find that's why a number of people want to monitor someone's mobile phone. Thus, they need to have the best and perfect hacking tool that can deliver desired results. To hack someone's mobile phone the trended hacking tool is spyware that can help you to track someone's mobile phone.
LG V60 ThinQ Spyware Interface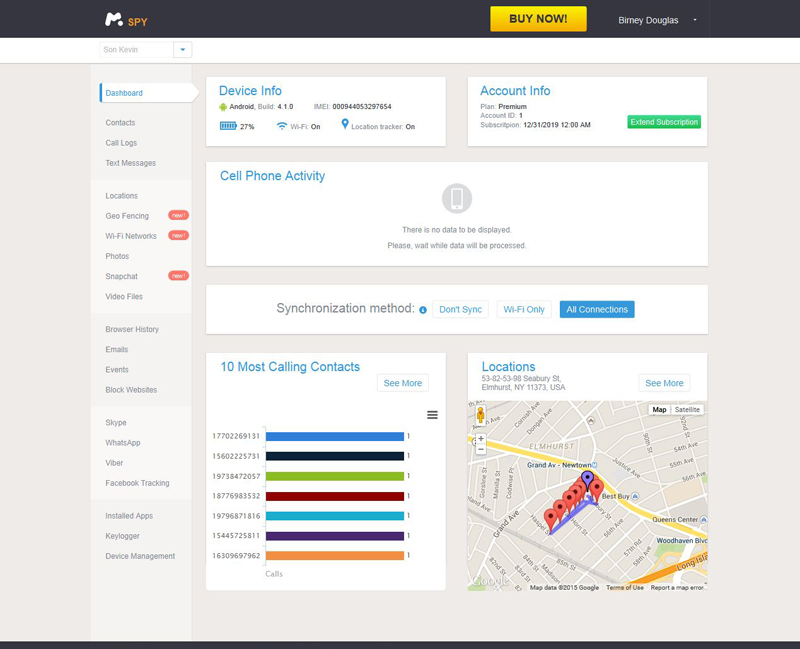 LG V60 ThinQ Spy App Features
Manage phone calls
View all incoming/outgoing calls, including durations and timestamps. Block unwanted numbers from reaching your child.
Track text messages
Log content of all incoming/outgoing text messages and the sender/recipient information.
Track GPS locations
The app is able to report the GPS location of the phone, the Geo-fencing feature sets up safe/dangerous zones and will alert the administrator upon the entrance/exist of zones.
Monitor Internet usage
View all websites visited. Oversee what your kids are doing online and block porn, violent, racist or otherwise objectionable content.
View photos and videos captured with the LG V60 ThinQ
Keep track of every photo and video saved on the phone. Every time your child records a video or takes a photo with their device, it will immediately be uploaded to your monitoring app account.
Track popular chat apps
Capture messages sent and received by the target user on Skype, WhatsApp, Snapchat, Facebook, and Viber. Monitor multimedia files automatically stored in the gallery.