I am a Android smartphone users, my husband bought a new OnePlus 9 Pro. I want to use my Android phone to monitor my husband's OnePlus 9 Pro. How to do that? He always was a miserable man. He didn't like to talk with me nor anybody else these days. I want to know what happened. – Blanche
OnePlus is releasing a high-end handset called the OnePlus 9 Pro — just 9 months after launching its OnePlus 8 Pro flagship in June. Compare with OnePlus 8 Pro, it's packed with a bigger battery, a faster processor and a better camera. The software updates include more system gestures, resizable icons and a more user-friendly file manager. So, If you plan to buy a new Android phone, OnePlus 9 Pro is a good choice.
Along with the development and maturity of global handset manufacture, the functions of handset are becoming more rich and colorful. It has already extended to internet, MP3, computer, remote control and so on. The product complexity and customization variety are increasing. After purchase a new smartphone, the user like installing some favorite applications into it, such as popular games, players, etc. Please don't forget the most popular software now. This is a commitment to protect the company secrets, promote family harmony, ensure family security software. This software can help you to monitor on OnePlus 7 Pro, OnePlus 7, OnePlus 9, OnePlus 9 Pro and other hot phones/tablets.
If you want to spy on OnePlus OnePlus 7/7 Pro/9/9 Pro, you just need to install this monitoring app into the target phone. Then you can track on OnePlus mobile phone via your Android phone. It's so simple. You can get OnePlus Spy App via clicking below button.
Get OnePlus Monitoring Software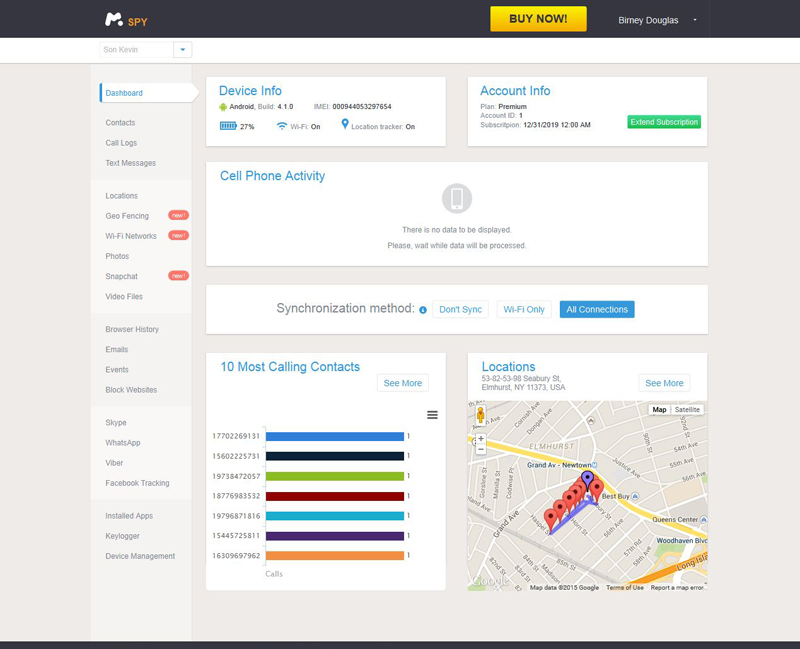 10 Reasons To Use OnePlus Spy Software
1. Track Their Location – With the first wave of OnePlus 9/9 Pro being offered for $725/$899. That's a pretty expensive piece of mobile equipment. What would you do if they were stolen? IF you have OnePlus spware installed it will be possible to track their location via GPS allowing law enforcement to recover the device.
2. Protect Yourself From Others – If your partner has OnePlus 7/7 Pro/9/9 Pro, you may be concerned about your own privacy. Are they recording you without your knowledge? With OnePlus spy software you can find out if they are filming you without your knowledge.
3. Back Up Media Files – With the ability for OnePlus phones and other Android users to record video or audio and to take pictures on the go, there will be a demand for an easy to use back up system for these type of files. If you use a Android monitoring software these files will automatically be transmitted to the monitoring dashboard allowing you to back up your files with ease.
4. Block Advertising – OnePlus monitoring app can be configured to stop access to certain websites including advertising. This will be useful in making sure that you are not bombarded by advertising when using OnePlus 7, OnePlus 7 Pro, OnePlus 9, OnePlus 9 Pro.
5. Manage calls – View the list of incoming and outgoing calls on your kid's phone. Use OnePlus Spy App to limit the interaction with people you disapprove, restrict unwanted numbers from reaching your kid's phone and prevent unhealthy communication.
6. Building Up Evidence – If you need to prove what someone is doing for any reason, for example to report a co-worker, or to prove that they are threatening you then it can help to have a record of conversations. OnePlus Spy Software have the ability to record conversations and phone calls or even text messages and emails to be used as proof.
7. Protecting Your Kids – At the current price, it is likely that many parents will buy OnePlus smartphone for their kids. When kids do get their hands on OnePlus 7/7 Pro/9/9 Pro or other smartphone (iPhone 13 Pro Max, iPhone 12, iPhone 11, iPhone XS Max, Galaxy S20, Galaxy S10, Galaxy Note 9, Oppo Find X3 Pro, Xperia XZ3, HTC U12, LG G8 ThinQ Power), parents are going to want to monitor them and mobile tracking software will help!
8. Securing Business Information – Eventually, there are going to be companies issuing OnePlus 7/7 Pro to staff for business use. Like other smartphones, these devices will present security concerns and Android spy app can be used to address these.
9. Wiping Stored Data – If your OnePlus phone is lost or stolen then any personal information stored on the device becomes vulnerable. With Android monitoring app you can send a remote command to wipe the device before the data is misused.
10. Check How Uses It – With tracking app installed it will be possible for you to monitor what they are using the OnePlus 9 or OnePlus 9 Pro for including messages sent, data recorded and much more.
Tip: How to Root OnePlus 9/9 Pro/7/7 Pro
A simple method to root OnePlus phone is the KingoRoot root method. Follow the given steps to successfully root your OnePlus device.
Step 1: Download KingoRoot App
First, get your OnePlus phone downloaded with the KingoRoot app. Once the download completes, install it.
Step 2: Start Rooting
Once the KingoRoot app is successfully installed, select One Click Root. The rooting will start right away. It may take time to root the phone. Once the rooting completes, you will get a notification of root success.