"Hi, Admin! My husband purchased Samsung Galaxy S21 yesterday, I plan to install a monitoring app into his new Android 11 smartphone. Can I do that? He having an irritable and unpleasant disposition. If you have any suggestions or relevant experiences, please share with me?"
Do you get the feeling that your husband is hiding something, gets home late and has unreasonable excuses, became more secretive, spends money you don't have on needless things, clothes; keeps the Galaxy S21, Galaxy S21+ or Galaxy S20 Ultra password protected and never leaves it for a second? These are the signs that your husband might be cheating on you.
But without proof it is hard to call them definitive evidence. In fact if you try to expose your husband with these proofless claims – the partner will likely find a simple excuse to explain everything, moreover, they will try to reject accusations and make you feel guilty for being suspicious. However, there is a different approach to catch the cheater – Spy on your husband via a monitoring Software. You husband is Galaxy S21 user, and this smartphone running Android system. So you just needing a Top Galaxy S21 Spy App. Our Android Spy Software is your best choice.
Galaxy S21 Spy Software Interface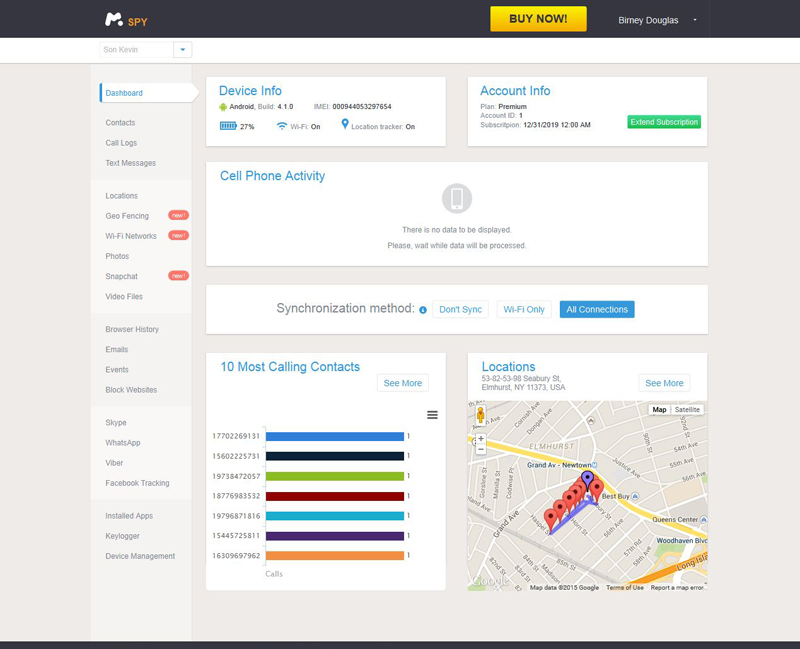 Free try Samsung Galaxy S21 Spy App
Tip: If you want to spy someone's iPhone 12 Pro Max or other Apple iOS devices, our Adroid monitoring app will give you a hand too.
Smartphone is inevitable part of our lives. We do most of the web surfing, chatting, communicating with the help of this small handy device, entering the smartphone era and leaving PCs behind. When it comes to mobile spying – even PIs need assistance from monitoring app for Android, IOS or Windows smartphone. Galaxy S21 Spy App comes to the rescue and is the choice of numerous Private Investigation agencies. It is the software that allows to retrieve all texts, record calls, track Location, as well as spying on Social networking activities such as Skype, Hangouts, Viber, Tinder, WhatsApp, Facebook logs. Powerful and completely undetectable Android smartphone spying solution.
You should try to find the reasons and then attempt to solve the problem. Please don't blame your husband all the time. Maybe you're not do well. Please don't always use a divorce to blackmail your spouse. As a part of the family, everyone have my own duty. You should go somewhere quiet, and talk it over. Give physical affection freely and empathize when they talk about problems in other areas of their life. This is the effective way to save the relationship and family.
All Neccessary Features to Monitor Galaxy S21
No ROOTING Required – Our Android Spy App doesn't require Galaxy S21 to be rooted.
Call Details -View the details of all incoming and outgoing phone calls.
Application List – This feature allows you to view details of all apps installed on phone so that you can filter out inappropriate apps.
Picture/Video Logging – View every picture/video captured or sent via phone or whatsapp with the monitored Galaxy S21 mobile.
GPS History – Determine the exact location of the monitored phone at any time using GPS technology.
Read Instant Messages – Monitor popular communication apps like Skype, WhatsApp, iMessage, Facebook, Viber, Snapchat etc.
Text Message Logging – View all text messages sent to and from the monitored Galaxy S21.
Web History – View a log of all websites visited on the monitored smartphone.
Read emails – Galaxy S21 Spy Software allows you to check email history on monitored devices.
SIM Change Notification – Receive a notification if the monitored Samsung phone's SIM card is changed.
Contact Details – View all of the monitored Galaxy S21's stored contacts.
How Galaxy S21 Spy App Works? Get the Answers You Deserve In 3 Simple Steps
Step 1. Sign-Up Now
After selecting the pricing plan that best suits your needs and making payment, your order will be processed immediately and you will be directed to the next step.
Step 2. Set-Up Account
In this step, you will need to set-up a account that you can log into and gain access to the information being tracked by our Galaxy S21 monitoring software.
Step 3. Download and Install
Once your account is set-up, you will be provided with access to our Galaxy S21 Spy App that you can then download and install to your target device.
Step 4: Start monitoring Galaxy S21
Log in to your Control Panel and start viewing the data from the target Galaxy S21, Galaxy S21+ or Galaxy S21 Ultra through your dashboard.
Tip: How to Root Samsung Galaxy S21?
There are different methods to root your Galaxy S21, Galaxy S21+ or Galaxy S20 Ultra. However, the use of the SuperSU method is quick and simple. With this method, you can root your flagship phone within a few steps that are given below.
Step 1: Download SuperSU file on the Galaxy S21
In the first step, you need to download SuperSU on the Galaxy S21. You can click here to start the download right away.
Step 2: Boot into Recovery Mode
Power off your Galaxy S21 and then boot the phone into Recovery Mode.
Step 3: Boot into TWRP Recovery
Now boot your phone into TWRP Recovery Project. To start the booting process, press Volume Down key and Power Button simultaneously for a few seconds.
Step 4: Install SuperSU
Once you are in TWRP Recovery Project, find the downloaded SuperSU file and install it. Select Swipe to Confirm Flash. That's it! Your Galaxy S21, Galaxy S21+ or Galaxy S21 Ultra is rooted successfully.