How can I get a hidden spy apps for Android? You just bought your son a Vivo smartphone and you are worried that he might use it to view porn sites. Maybe you want to make sure that your teenage daughter is not getting involved in texting or chatting with someone trying to take advantage of her. The solution for you is Vivo Spy App, the ultimate vivo Spy Software. This powerful vivo monitoring software allows parents and employers to monitor Vivo cell phones running Android and other hot devices such as Galaxy S10, Galaxy Note 10, Nokia 8.2, Moto E6, LG G8 ThinQ, HTC U19e, OnePlus 7 Pro, Google Pixel 3a XL even iPhone XS Max and iPhone XR. Notable Vivo models that can run this tracking app include V Series, Y Series, X Series and NEX. Once the software is downloaded and installed onto the vivo mobile phone it silently records activities and sends them to your private viewing account.
Keyword Feature
SMS Text Messages
View All Call Details
Phone Call Recording
Social Media Conversations
Track vivo GPS Location
Websites Visited
Read Email
Track GPS Locations
Photo Logs
Ambient Voice Phone Recording
Whatsapp Spy
Social Monitoring Tracking Software such as Viber, Facebook, Skype, Hangouts…
Android Smartphone spying is an activity that is increasingly assuming significance these days, due to the rise in infidelity. Now, it has become very easy to Spy on Vivo Phone of the person you doubt, using this intelligent spy software. It helps you to read every information of the target person remotely from anywhere at anytime. It is easily affordable and is compatible with all Vivo phones.
Get Spy Software for Vivo cell phones
You will be able to secretly monitor vivo cell phones because Vivo spyware remains completely hidden from the user. Once installed, you can secretly monitor their cell phone activities 24/7 from your Vivo spy app user account.
Vivo Spy App Interface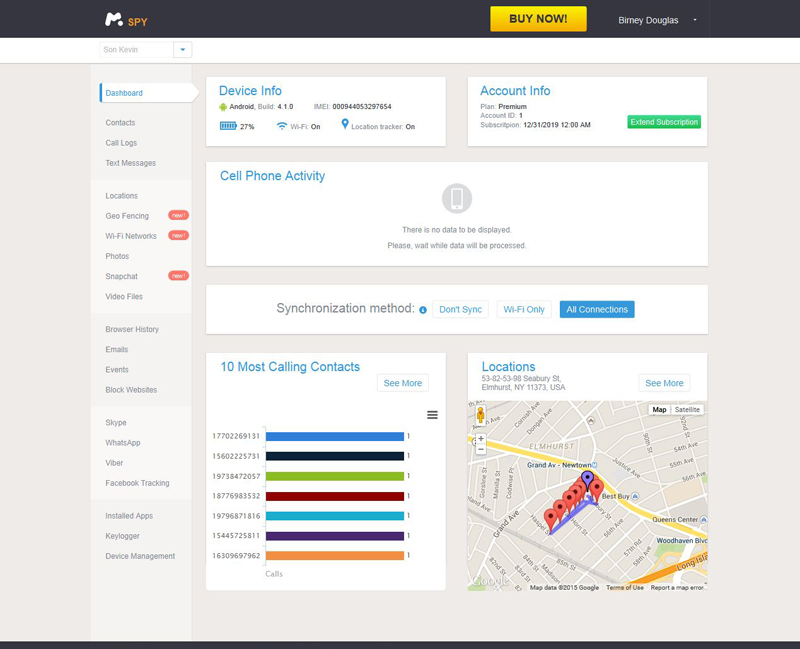 Why Choose our Vivo Spy software
Ambient Listening
Hear what's happening around the device. Make a hidden call to the target phone to listening the vivo phones' surroundings, like a bugging device (conversations in the room, etc). Real Time ambient listening is available on Vivo spy app only. Competitors does not have this feature!
GPS Tracking Location
GPS tracker is the most useful and beneficial feature of this Vivo spy app. Global positioning of the person can be detected quickly. This also tracks the position of the terrorist during the mission. Smart work is done online, and you do not have to do hard work in the present era. Working parents should be tension free as their children are always in their surveillance. They can get all the basic details of the chats and messages. The signals of this system are worldwide.
Phone Book Access
You can track the address book of the target phone and find out about the kind of people that the user of the target phone has numbers of in the contact section of his or her phone.
WhatsApp Spy
Vivo spy software is also efficiently used for fetching the data of the messenger apps available in the victim's cell phone. You can get all the information about your partner so that they cannot cheat you in any way. Correct decisions can be taken, and you will be benefitted through this.
Live Call Recording
Vivo spy app feature is very advantageous to any person who is involved in the spying process. When you do not know that to whom your partner or children were talking to, they are hiding something from you. There is no need to worry because you can check and listen to the whole conversation from both the sides.
Key Logger
Captures all what target users typed on target devices so can know password of facebook for example.
SMS Tracking
This Vivo cell phone tracking software lets you read all text and multimedia messages sent or received by the target phone user. They are made viewable to you regardless of if they have been deleted on the tracked device itself.
Remotely Control
With smartphones being often lost or stolen, information theft is getting quite common. By remotely erasing your target phone data or locking the device, you make sure personal data does not fall into the wrong hands.
Photo and Video Tracking
This Vivo spy software lets you track all the pictures and videos that are clicked from the targeted vivo phone .All the Data will be sent to your control panel under pictures section so you can download the pictures in your PC/Laptop
*Note: All Instant Messenger monitoring requires rooting your Android device!
Download and install Vivo spy app
The installation and download process of the vivo spy app is quite easy. This is a comfortable and quick process. Anybody can download it and use it accordingly. You just have to follow the simple steps for this process. Find out the official website of this app and download it for free. vivo Spy process is made easy through this online availability of the website. Much information is available on the site so that the information can be used beneficially by the ordinary people.
How the Vivo spy app works?
1. Buy Vivo spy app
Go to the monitoring app website. Go to the landing page and click on the 'Try Now'. Provide the required details, and then proceed to checkout.
2. Install spy app onto Vivo cell phone
After the order is complete, you will be instantly emailed a receipt with your registration code. This code is used to Register your account so you can create your username and password for your online account. This email will also contain a link to download the vivo spy app. You can download and install the application onto the vivo mobile phone to be monitored using the included instructions.
Note: Go to Settings > Google > Security > Google Play Protect.
Disable Improve harmful app detection and Scan device for security threats.
From the cell phone's menu, go to the "Settings" options. Then from the menu, go to the "Security" option, and click "Unknown sources". Don't forget to enable the "Unknown sources" option as shown below, else the software won't be installed properly.
3. Start Spying Secretly
You will be able to monitor the device through your app or web browser after it syncs in 24-hour intervals. Afterward, you can access to the device's control board anytime and anywhere!
Supported Devices
V series: vivo V11, Y17, V15, V15 Pro, V11i, V9 Youth, V9, V7+, V7, etc
Y series: vivo Y95, Y97, Y91C, Y93, Y85, Y81i, Y83, Y71, Y71i, etc
X series: vivo X1, X30 Pro. X30, X20, X21, X22, X23, X27/X27 Pro, etc
NEX: NEX Dual Display Edition, NEX S, NEX A, etc
Other Vivo Android phones: vivo Z6, vivo S1/S1 Pro, vivo Z1 Pro, vivo Z5 X, vivo Z3 X, vivo iQOO3, iQOO, iQOO Neo,etc
Other Android and Apple IOS smartphones
Vivo Spy App Reviews – 2019
But as a business owner, I have to think about the long term. Some employees tell others the bottom price of our products. This kind of behavior is not allow in our company. Your software helped me find out the truth. I'll be forced to take this to the next level. – Stephan Smith
Thank you for sharing and keep up the good work. I have a 16-year-old daughter. She's a good girl really, a bit lazy and disorganized sometimes, but she's very bright. Recently, she's been out on weekends. I want to know who she's with. I did it. It was great. I want her to cut off from bad young people. – Jennifer Maller